Anti-Corrosion Nylon 66 Glass Replace Aluminum PV Mounting Solar Panel Mid Clamp
Anti-Corrosion Nylon 66 Glass Replace Aluminum PV Mounting Solar Panel Mid Clamp are widely applied to framed solar panel ,the material is Polyamide66 Fiberglass45% ,with accurate design, the mid-clamp can make the connection between the panels firmly.
Anti-Corrosion Nylon 66 Glass Replace Aluminum PV Mounting Solar Panel Mid Clamp
Jiangyin KAXITE TECHNOLOGY Extruded the polyamide profiles applicated in solar power systems, instead of aluminium frames, with higher mechanical performance, longer life, lower cost, and better corrosion resistant. Now widely used in the solar photovoltaic industry all over the world.
Product Information

Material

PA66 GF45

Specification

Customized

Application

Home/Indurstrial/ Solar Panel Mounting

Warranty

10 Years

Sample

Available

Delivery Date

3-15 Days After Payment Received

Type

Solar Clamp

Duration

More Than 20 Years

Packaging

Accept Any Customized Package

Shipping term

By Express, By Air, By Sea Are Available

Payment term

T/T, Western Union, Paypal

Certification

SGS,ROSH,ISO9001:2008,TUV

Size

Accept Any Customized Size

MOQ

We Can Accept Small Trial Order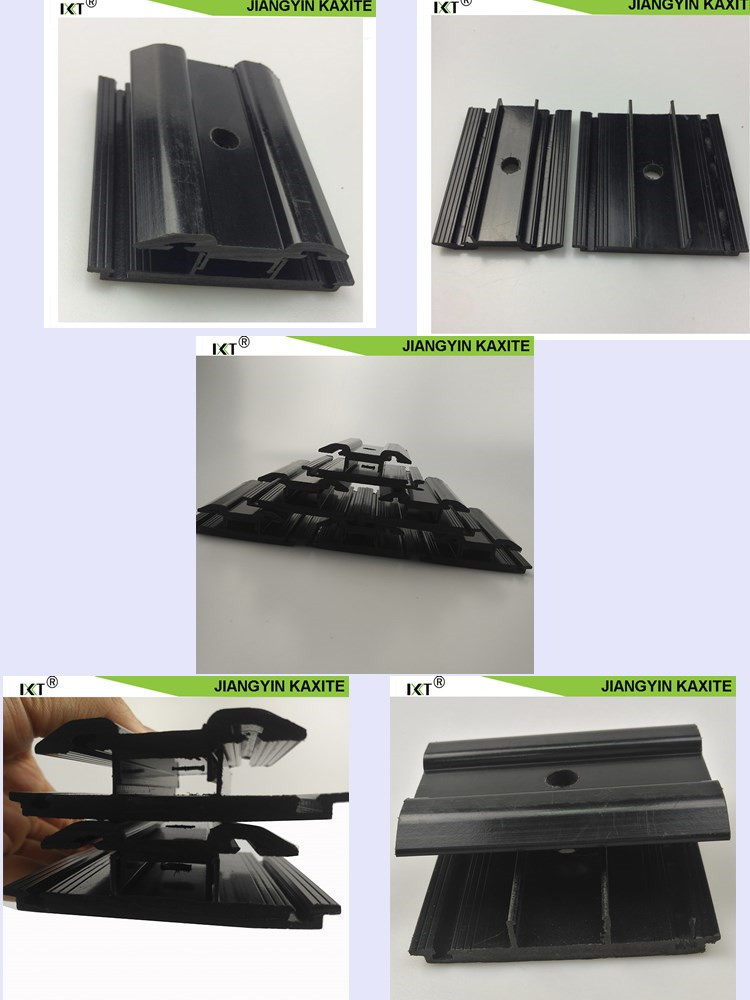 Technical Performance:
The performance of polyamide profiles are in line with the Chinese standard GB/T 23615.1-2009 and the European Standard EN 14024:2004, for KAXITE series, the performance is rather higher than the standard value.
Details of related standard:
GB/T 23615.1-2009 Accessorial material for architectural aluminum alloy profiles -- Part 1: Thermal barrier strip of polyamide

EN 14024-2004 Metal profiles with thermal barrier -- Mechanical performance Requirement, proof and tests for assessment

YS/T 437-2008 Aluminium profiles moment of inertia calculation methods and computing software requirements

JG/T 174-2005 Thermal barrier strips for construction industry

GB 5237.6 -2012 Wrought aluminium alloy extruded profiles for architecture -- Part 6: Thermal barrier profiles

GB/T 8478-2008 Aluminium windows and doors

GB/T 8484-2008 Graduation and test for thermal insulating properties of doors and windows

JG 175-2011 Insulating aluminum alloy profiles with thermal barrier for buildings

UL94

Standard for Tests for Flammability of Plastic Materials for Parts in Devices and Appliances

ASTM E84

Standard Test Method for Surface Burning Characteristics of Building Materials

NFPA 285 Standard Fire Test Method for Evaluation of Fire Propagation Characteristics of Exterior Non-Load-Bearing Wall Assemblies Containing Combustible Components
In 2015, we became the leader of the Chinese National Standard Committee (for revising of GB/T 23615.1-2009) .
(KAXITE Series)
(made of pure

new raw material

of PA66), you can see the extremely better performance of

polyamide profiles

as shown below:
Testing Result From CNAS:
Raw Materials & Granulation:
We granuled by ourselves to ensure the quality of raw material for PA66GF

polyamide profiles

.
What's the most important component in the raw material of

polyamide profiles for solar photovoltaic systems

? Not Dupond, not extremely expensive fiberglass, it's

Anti-aging agent and

Antioxidants.
Think what will happen if there's no such anti-aging agents or antioxidants?

polyamide profiles for solar photovoltaic systems

may aging fastly under wind and sun, maybe just less than 10 years, the polymer profiles would broken and solar panle will fall from such high place!! But now most finished raw materials in the market for

polyamide profiles

manufacturers h

ave no such antioxidants due to it's high cost, so in order to avoid the phenomenon,
we have our own capacity of granulation
to ensure that our raw mat

erials contain these important elements!
ISO9001:2008 Manutacturing
Good packaging, take care of what you care about!
OEM of Performance (Granulation)!
We support customizing any special performance of polyamide profiles, even flame retardant required.
OEM Of Shapes (Cutting Dies)!
Mostly we could finish the development of new products in 15 days.
The hardest thing is not thinking, but realizing. Most customers were upset that nobody could develop the shapes that they designed, some counterparts even came and looking for help to our workshop. We developing and cutting new dies for our customer, of course we never failed to develop any shape for our customers.
Service Advantages:
1, the design and development of new polyamide profiles, for any kinds of shapes you need for the polyamide profiles for solar photovoltaic systems, we can develop mould in a short time and send you the samples, actually we've successfully solved so much headaches for our customers and received satisfaction;
2, we offer the most advanced laser marking machine for custmers if a special mark on the polyamide profiles for solar photovoltaic systems is needed;
3, Here we offers most sizes from 10mm width to 1000mm or even bigger polyamide profiles for solar photovoltaic systems, which's your best favor?
4, We provide matching equipment of PA66 polyamide profiles for solar photovoltaic systems for customers for the corresponding service followed.
An energy-saving Materials Technology Company.
ABOUT KAXITE

®

TECHNOLOGY
Jiangyin Kaxite Energy-saving Materials Technology Co., Ltd (abb.: KAXITE TECHNOLOGY, KXT-TECH) was originally a family business, developing since 2001, now acting as a group, who has her own two divisions, Plastics Extrusion Division, Non-woven Division, and some high-tech cooperation projects, which supported by Nanjing University Of Science and Technology, Jiangyin Technology Bureau, Guangdong Nonferrous Metal Research Institute...
It is developing so fast and there're more than 150 employees in the group, with 2 factories, 3 offices, and 1 cooperated factory, 2 cooperated laboratories, all are located in China.
Our Social Influence In The Industry Of Energy-saving Materials.
National industrial symposia about aluminium polyamide profiles always chaired by us.
Our

polyamide profiles for solar photovoltaic systems

were used in most huge projects, either home or industrial projects.